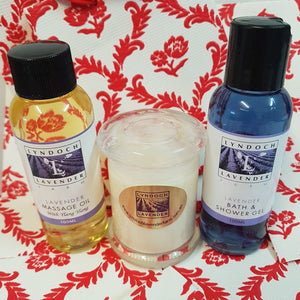 The Little Love Indulgence Pack
Regular price $28.90 Sale
The Little Love Gift Pack for a romantic relaxing experience

 
includes:
Lavender Massage Oil with Ylang Ylang -  Increase your sense of well being with a soothing lavender massage with the added romantic scent of Ylang Ylang.  Our oil is made with the finest grade sweet almond oil and English lavender essential oil. (100ml)

Lavender Bath and Shower Gel - feel and smell fabulous. Use for a perfumed foamy bath, maybe a really bubbly spa or apply with loofah or sponge under shower. (100ml)

Lavender Soy Candle - with a long lasting clean perfume in a beautiful glass jar.


___________________________________________
Packaged and ready to be sent to you - or as a gift for someone special

ALL FOR JUST $28.90

Perfect for Love