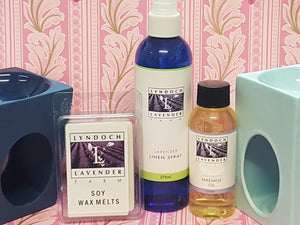 Relaxation Sensations Gift Pack
Regular price $44.00 Sale
Relaxation Sensations - This pack has everything you need, just add one person to provide the massage  :)  and 
includes: 
Lavender Massage Oil -  Increase your sense of well being with a soothing lavender massage. Our oil is made with the finest grade sweet almond oil and English lavender essential oil. (100ml)

Oil Burner - Light Brown or Light Blue

 - which one suits your decor? Perfect to use with our homemade melts or an essential oil or fragrance oil.. 




Lyndoch Lavender Melts -  Simply pop one of our hand made soy melts into the top of an oil burner and relax as the fragrance gently gently diffuses through your home 
Lavender Linen Spray - spray your pillow, sheets, curtains, linen cupboard for a beautiful perfume (275ml)
And a Pretty Pink Bag  in which you can package the above to give to that someone special.
___________________________________________
Packaged and ready to be sent to you - or as a gift for someone special

ALL FOR JUST $44.00

valued at over $49.00
 
Limited stocks